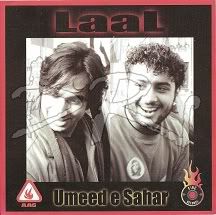 Laal The Band
Umeed-e-Sahar
Download MP3/WMA Album
A rising Communist Band in Pakistan, Laal The Band, has released their first album with Fire Records of Aag TV [GEO]. Most of their songs were written and composed by Late Habib Jalib. However, Faiz Ahmed Faiz's poetry, along with Pakistan's popular lawyer Aitezaz Ahsan's (Aitzaz) poetry has also been sung in this album.
The album is regarding the current situation of Pakistan andPakistan's Politics; main topic is "road to acheive justice" - The leading singer is Shahram Azhar(Sharam Azher).
01 - Mein Nay Kaha (Musheer) (Main Ne Uss se Yeh Kaha)
02 - Umeed-e-Sehar (Umid-e-Sahar)
03 - Kal Aaj Aur Kal
04 - Na Juda (Nahin Juda)
05 - Saada
06 - Mat Samjho
07 - Zulmat Ko Zia (Bande Ko Khuda kia Likhna)
08 - Jaag Punjab (Jaag Mere Punjab)
09 - Dastoor
10 - Jaago
Enjoy!!!
Source: MastySpot